Amritapuri
One of our aims in December was to visit the ashram of Amma, Mother, the hugging Guru. Amma hugs hundreds in a day and thousands in a week. It is said she has hugged millions. Amma was one of the immediate reasons we came to India this time. We were impressed by her presence at a hugging and prayer session in Albuquerque so much so that we began to think seriously again of going to India for an extended time. And we did.
Mother did not want you to take pictures of her giant meeting hall and the masses of people or her hugging them on the stage. So I have no picture like that. But I can show you what the buildings on the Amritapuri's barrier island looked like. These buildings were mostly full.
We were in Amritapuri in December as Amma was there. Usually she is on the road. There were so many people there.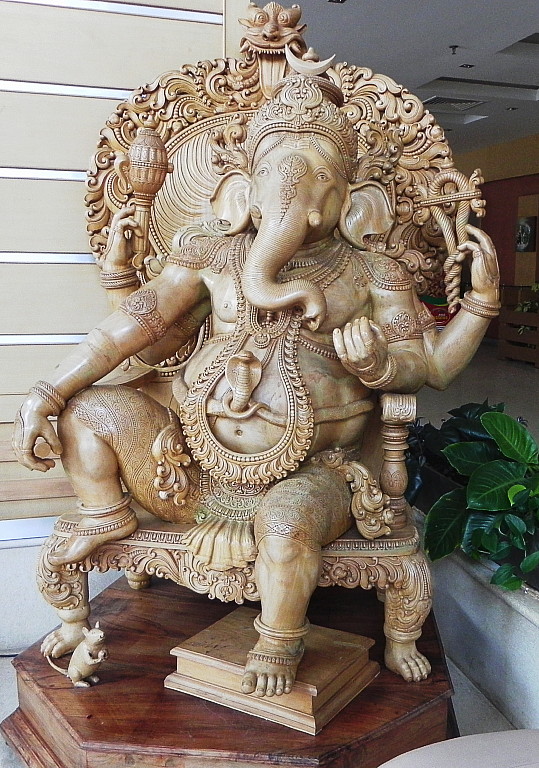 This wonderful statue of the money and luck god Ganesh stood in the lobby of a Kerala hotel where we stopped one day. (28 Dec 2013)
Back to top

The shore and palm trees of Amma's barrier island in Amritapuri from our fifth floor room level in the boys dorm—they were out on Christmas break and we were staying in their rooms. The temps were in the 90s and the mosquitoes were thick. We bought mosquito nets and tried to sleep. (22 Dec 2013)
Back to top

Our building from the roof level looking between the building's twin five stories. This was a small building. 12- and 14- story buildings provided housing for many people. (22 Dec 2013)
Back to top


Boats on the inland waterway at Amritapuri. (29 Dec 2013)
Back to top
Munnar
Munnar, in the hills east of Kochin, Kerala, on the Kerala-Tamil Nandu border is one of India's largest tea producing area. We left Amma's for there on 28 December first is a taxi and then in a long bus ride over poorly maintained roads.

Tea plantations at Munnar. (31 Dec 2013)
Back to top

Tea plantations at Munnar. (31 Dec 2013)
Back to top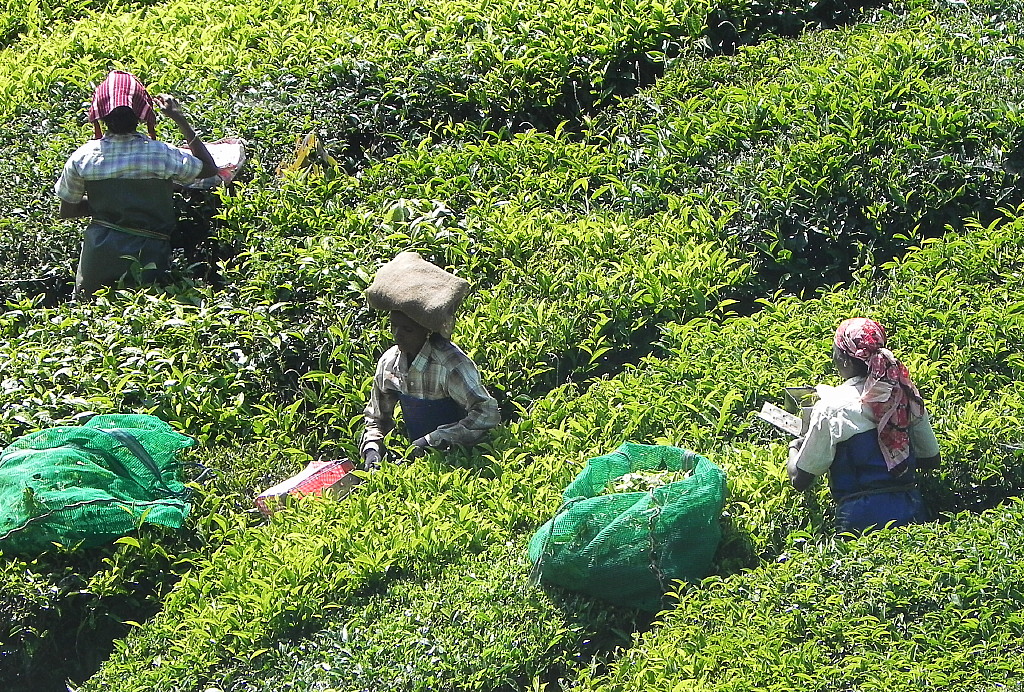 Women cutting tea at a tea plantation near Munnar. Click here to see a movie of these women cutting tea. (31 Dec 2013)
Back to top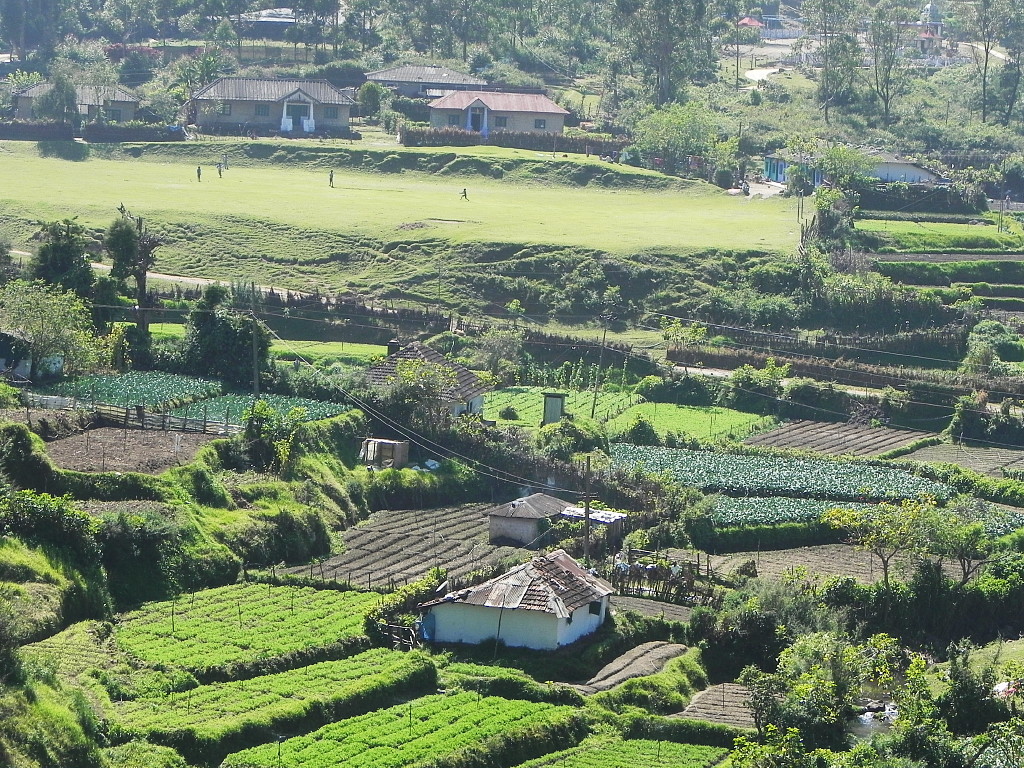 Rich fields near Munnar. (31 Dec 2013)
Back to top

Munnar field workers. (31 Dec 2013)
Back to top

Hiding in the tea fields? (31 Dec 2013)
Back to top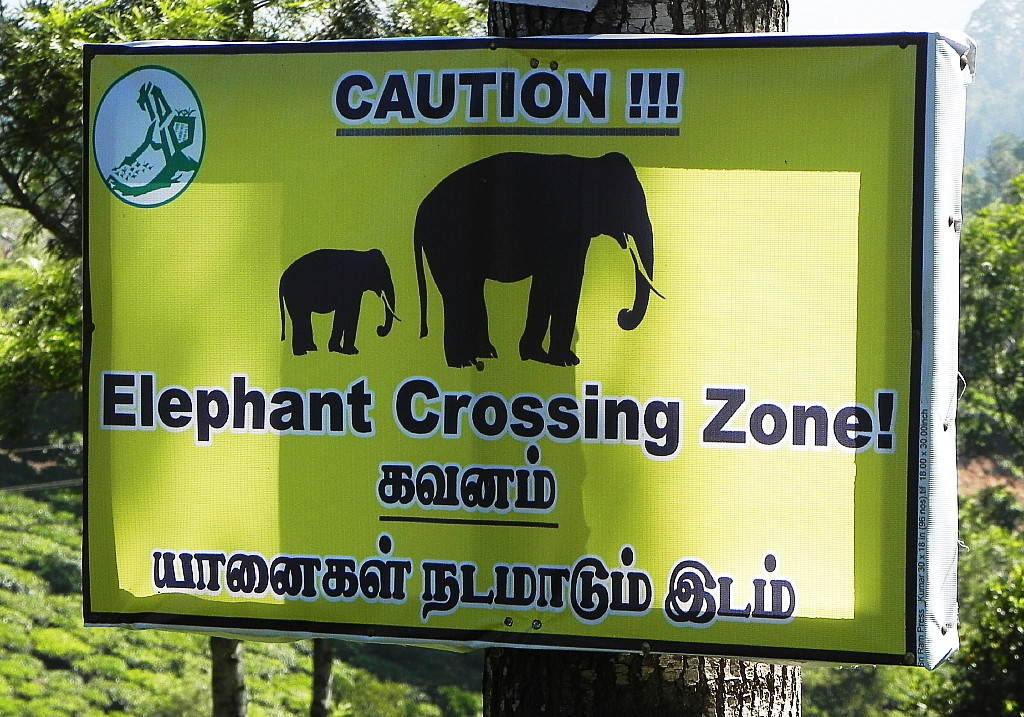 Elephant crossing. (31 Dec 2013)
Back to top

The sign had a reason. We were passing a wildlife preserve. (31 Dec 2013)
Back to top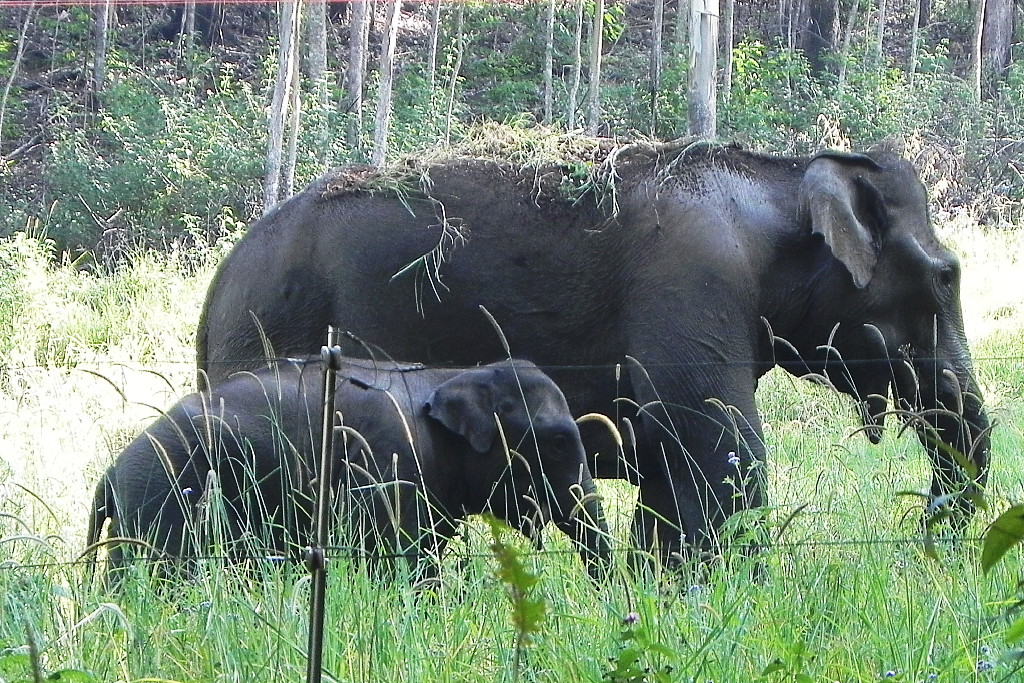 Mama and baby were walking along with the group. (31 Dec 2013)
Back to top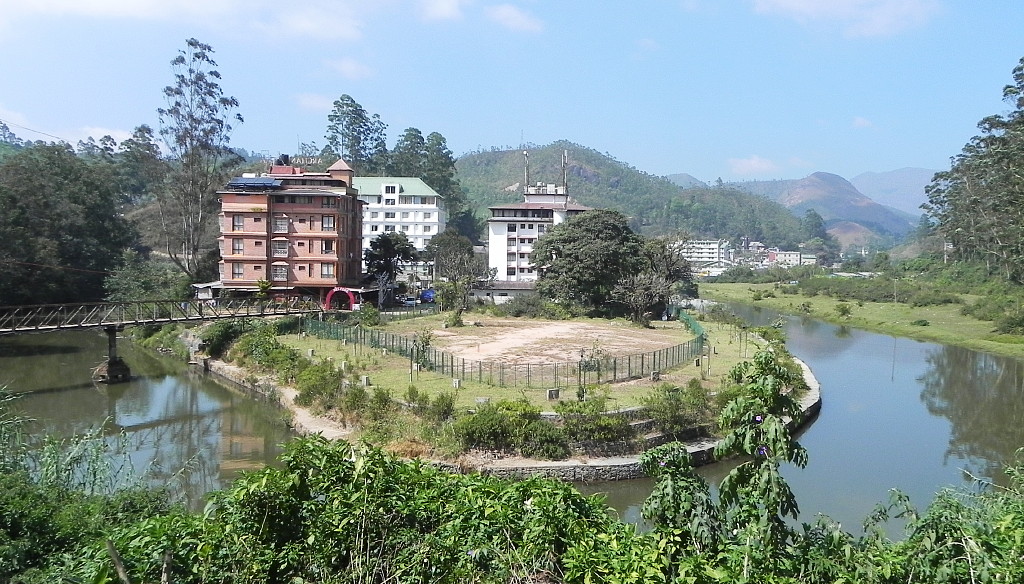 We came back to our hotel on the left after the excursion into the tea and animal lands and got ready for the New Year's Eve activities. (31 Jan 2013)
Back to top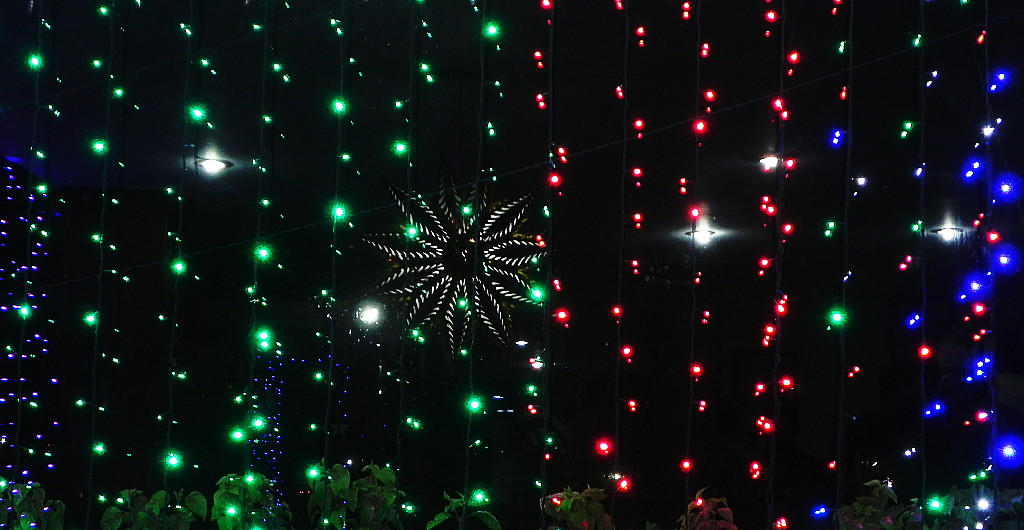 Lights signaled the holiday season. We ate a big evening meal, part of the evening celebration package. (31 Dec 2013)
Back to top

The drummers came in on queue around nine. They made a huge racket with their drums. Or was it rhythm they were sounding. It was impressive. (31 Dec 2013)
Back to top

A dancer joined the drummers. It took helpers better than half an hour to get him/her, some god or goddess, decked out like this. Then we danced and banged drums in the field next to the hotel and up and down the road for a few hours till it came time to set off the New Year's fireworks. (31 Dec 2013)
Back to top
At midnight the hotel brought out this huge cake. People cut off pieces, ate them, and fed them to each other, an interesting custom. Then promptly at the promised 12:30 the party ended and we all went up to bed. Never saw such order! (1 Jan 2014)
Back to top

Before the party I walked out into the countryside and saw this lineup of birds along a creek. (31 Dec 2013)
Back to top

And then the sun set. (31 Dec 2013)
Back to top
Copyright © 2014 Mike Metras, www.PilgrimageCreations.com