We spent a week with Swami Anubavananda (the Happy Swami) in Kaivalyadhama in December and didn't take even one picture of him. His tour was taking him to Panaji (Panjim) in Goa and Sri Sailam south of Hyderabad. Petra asked him about the tour and he offered to set up places for us to stay at both stops. We took him up on it and went to both places the second and third weeks of January 2015. This page shows you our time in Goa. Click here to see our week in Sri Sailam.
His talks were on various Vedantic topics: The Soul and Beyond in Kaivalyadhama, the Shiva Sutras in Panaji, and various topics on Creation in Sri Salam. We like him and have learned a lot from him.
Known also as the Happy Swami because of his theme of "Be happy," Swami Anubavananda is based in an ashram in Mumbai but travels around the world, including the United States. Most of the time, he is on the road. We have heard him before in Kaivalyadhama in 2012 and in Varanasi in 2014.
His conclusion to his studies and meditations on the Upanishads is that we have "Nothing to do and nowhere to go." So, just be happy.
On Swamiji's web site, www.justbehappy.org, you can view many videos of his talks. It is a good place to spend an afternoon or evening.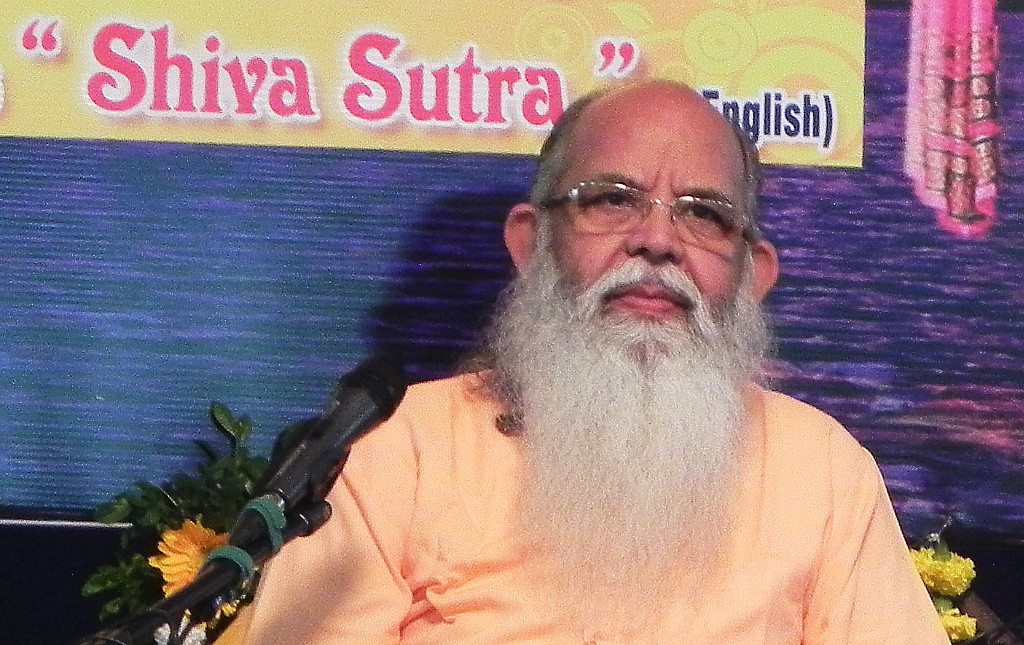 Swami Anubhavananda during his one of his talks on the Shiva Sutras in Panaji. (9 Jan 2015)
Back to top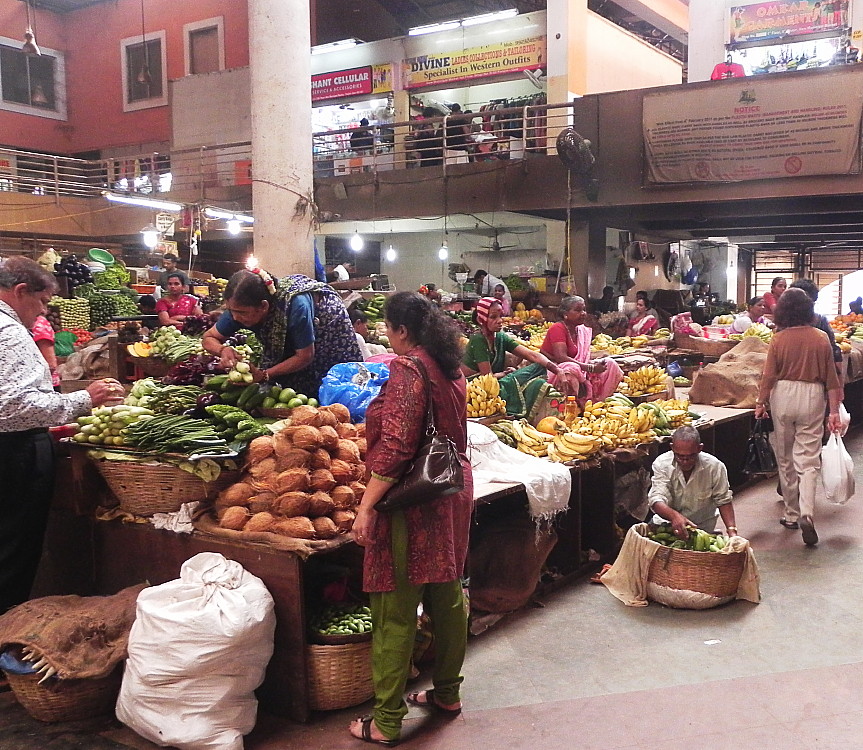 Panaji's market was very large, active, and colorful. (9 Jan 2015)
Back to top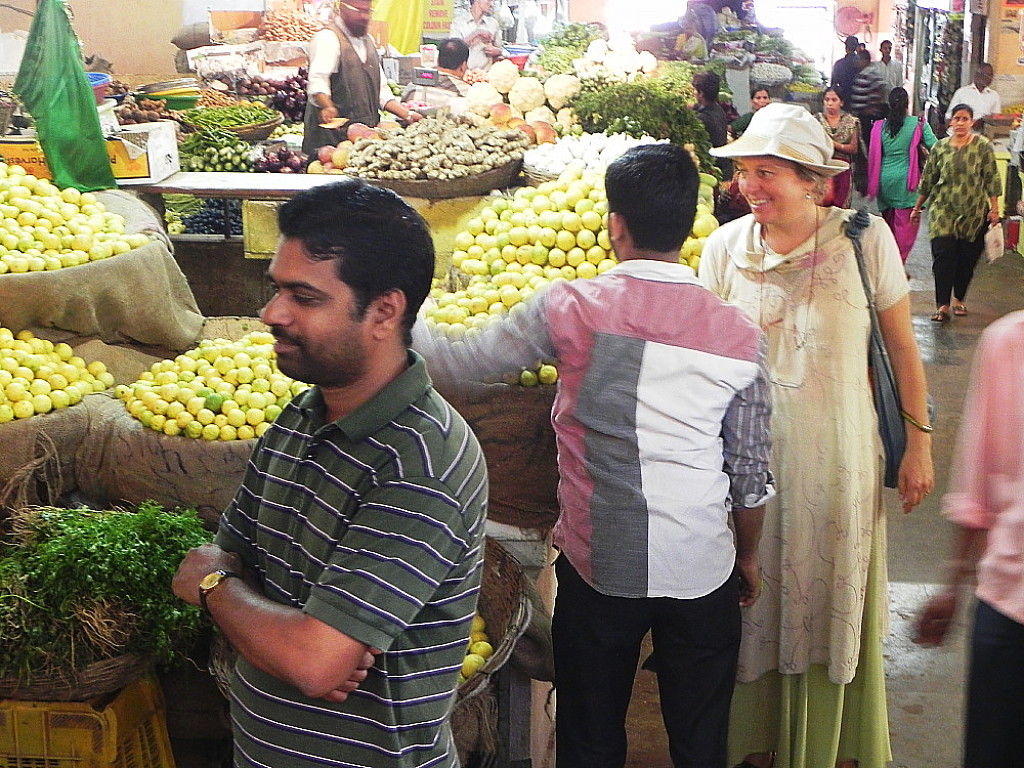 Petra is looking over the oranges in the Panaji market. (9 Jan 2015)
Back to top

This may be overkill for covering the Panaji market but I loved it and was a bit overawed by its color and life. (9 Jan 2015)
Back to top

We daily walked past this truly large tree in Panaji several times every day. Panaji had many enormous trees. (10 Jan 2015)
Back to top

Anabelle, Martin, and Petra in Panaji. Petra studied Environmental Engineering with Martin in University in Berlin and hadn't seen him in many years. One day she heard he was in India and searched Google for him. To her amazement he was in Panaji where we were going. She got his phone number by calling his mother in Germany. They have been in India for nine years. We got together a couple times for dinner while we were there. It was a great time for all. (16 Jan 2015)
Back to top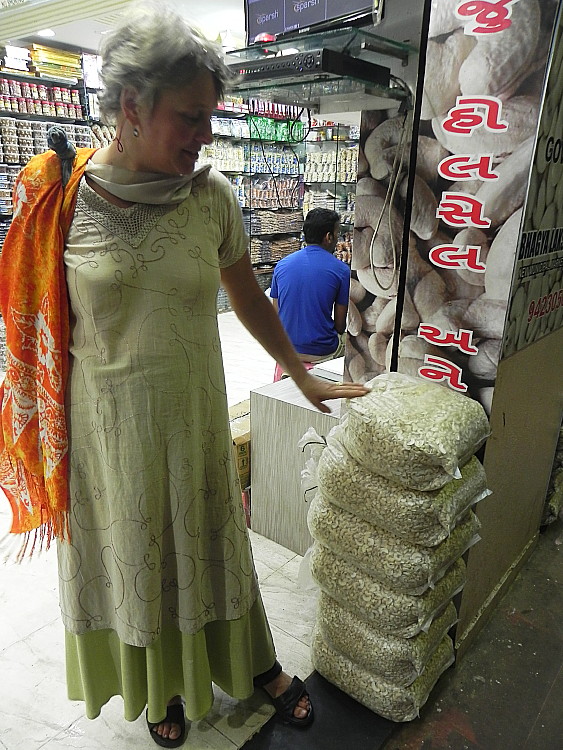 Petra stands in front of large packages of cashew nuts. This large store sold mostly nuts including these huge bags of cashews, one of the area's main commercial products. (12 Jan 2015)
Back to top

Swamiji with his local coordinator on the beach south of Panaji. We spent a few hours one day there taking in the local scene. (11 Jan 2015)
Back to top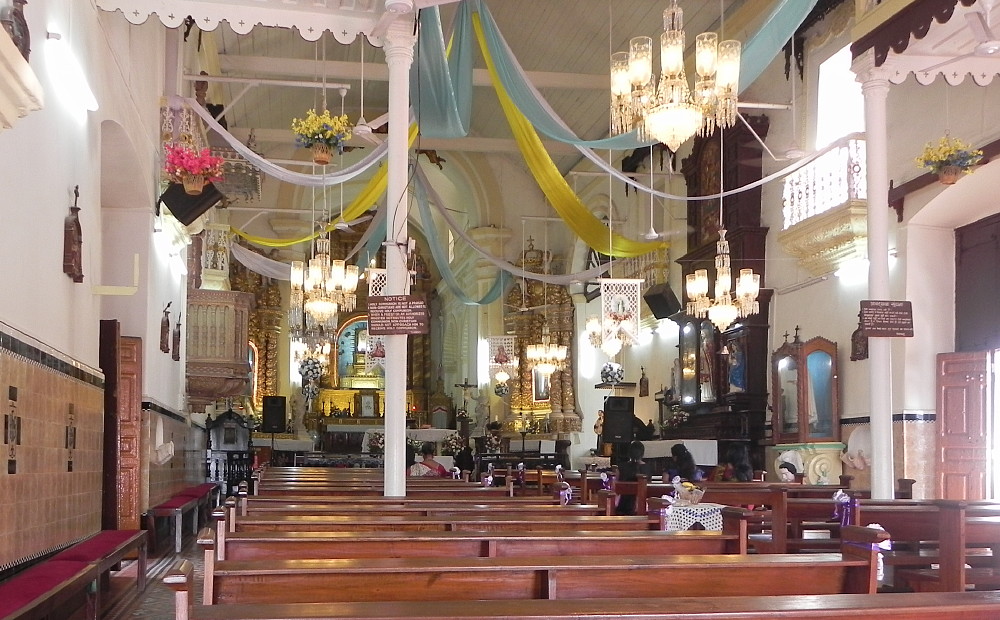 This big Catholic Church in Panaji felt like we were back in Portugal 40 years ago. A wedding was about to take place and the women were all in long, dark, flowery dresses, like they would have been in Portugal many years ago. (13 Jan 2015)
Back to top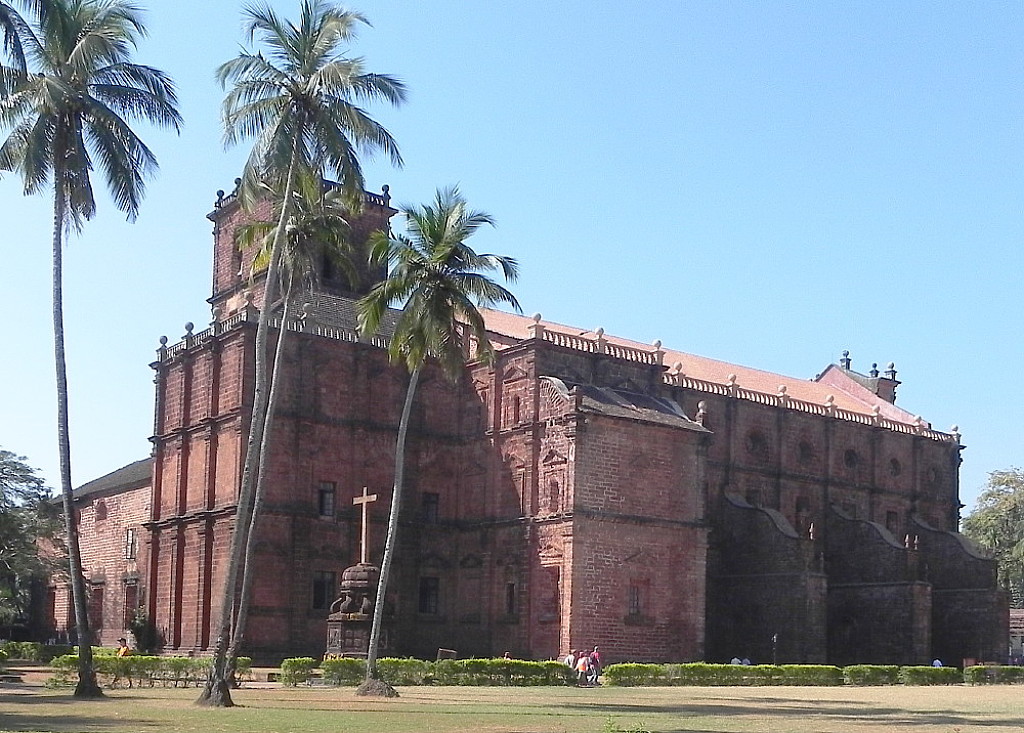 The Portuguese completed the Basilica of Bom Jesus in 1605. It is in an area of Panaji now known as Old Goa. The coordinator arranged a tour for us and Bhanu and Mohan, the South African couple who were with us in Panaji for the Swamaji's talks. (12 Jan 2015)
Back to top

This is Bom Jesus's long-term resident, St. Francis Xavier, the patron saint of Goa. (12 Jan 2015)
Back to top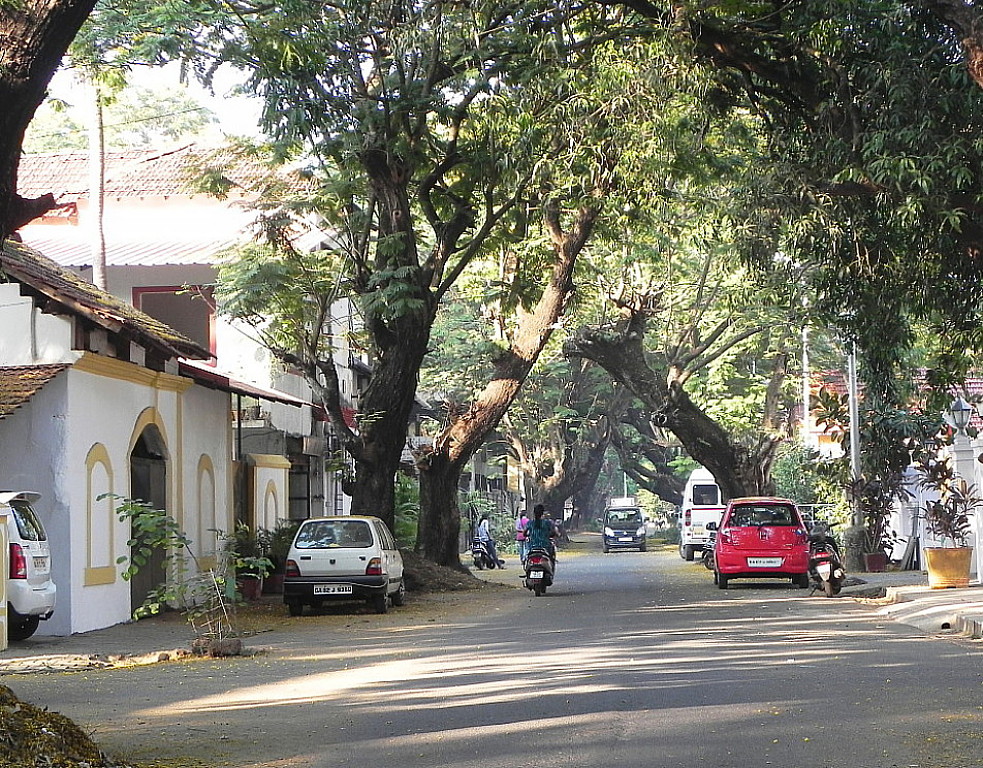 Like so many other streets in Panaji, this one in front of our hotel is lined with many, large trees. (16 Jan 2015)
Back to top
Created June 2015.
Copyright © 2015 Mike Metras, www.PilgrimageCreations.com