On 15 Jan 2009 we began a pilgrimage walking east from our front door in Paso Robles, California to Jerusalem. We walked into the Jerusalem on 23 December 2010 in time to be in Bethlehem on Christmas day. The time in between found us in 11 states and ten countries. Until Petra broke her leg south of Genoa, Italy we had walked better than 5,300 miles (8,600 kilometers), 80% of the total distance of about 6,680 miles (10,825 kilometers). We had to settle for a traditional tour from Cairo to Jerusalem.
Our web journals (blogs) tell the day-to-day story of the walk. There were two active journals during the walk. We set up the second as we started walking in Arles, France. Now that the walk is over we are not adding anything new to the journals.
You can still read the journals. Use the following drop down menus to look at various stages of the walk. Once in one of the journals you can use the calendar on the right side of the page to move from month to month and the links on the right to switch between the two journals.
Note: Each page begins with the last entry for the month; scroll down to move to the beginning of the month.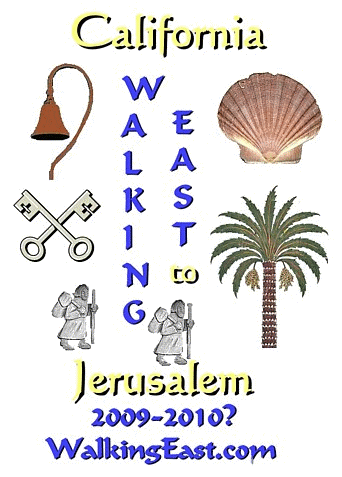 California to Arles, France - Walking East Journal
November 2008 - September 2010

Arles to Jerusalem - Meandering to Jerusalem
September 2010 - April 2011

Walking East is also available in book form: Encounters on the Road to Jerusalem is now available. Read about it and browse its initial 40 pages at Encounters on the Road to Jerusalem.
In addition to the entries and pages on the blogs, you can learn more about the walk from the options on the menus above
---
Copyright © 2008-2013 Mike Metras, www.PilgrimageCreations.com