Three themes dominate this set of pictures: Palm Sunday in Astorga, the broadness of the Spanish landscape, and the number of people walking to Santiago in this Holy Year.
On March 30, 2010 I posted the following entry. I repeat it here because is so well recounts my feelings that morning. I still feel that that Sunday morning I really entered Jerusalem--that I had arrived at the goal of this pilgrimage. In a way everything has been somewhat downhill since.
As I walk into Astorga around 10:30 March 30, I hear heavy brass band music. In time I come on the end of a parade. People are dressed in heavy black capes with tall conical hats covering their faces except for eye holes. In front of them is a band blasting and pounding away. Beyond the band a huge float with palm trees and statues sways from side to side. It's a Palm Sunday religious procession.
On Palm Sunday Christian literature tells of the people of Jerusalem welcoming Jesus into Jerusalem as they would welcome a king, with palm and olive branches and leaves on the road in front of and beneath him. On the following Friday they crucified him.
This parade is a celebration of Jesus' entry into Jerusalem. Heavy capes and pointed hats cover the walkers' faces and bodies. As sinners they wear them to hide their identity. (Only much later did the KKK copy the hats to cover their identities in the southern US. The hats were religious first.)
I walk with the parade on the sideline as if I am part of it. It moves very slowly. Soon I am beside and then ahead of the band and then the float. I stop and let them pass. The music and drums are slow and deliberate and loud. It resembles a funeral march even though it is supposed to be celebrating a triumphal entry. I continue forward walking in step with the band.
I realize this ceremony is reenacting Jesus' entry into Jerusalem 2000 years ago. I realize we will be arriving into Jerusalem in a year or so. I realize the two are entries into the same city. All goes together and pour into my heart. Tears flow. I let them flow. I let who sees them see them. Our path is one and the same. We are entering Jerusalem symbolically this morning.
I continue walkin at the slow pace of the drum cadence queuing the 80 people carrying the float. We walk through the streets of Astorga from the north to the south and back north to the Cathedral. I am entering Jerusalem this morning.
Jesus enters Jerusalem on this float in Astorga. (28 Mar 10)
A team of 80 bearers carry the float. (28 Mar 10)
All walk heads covered swaying to the cadence of the following band. (28 Mar 10)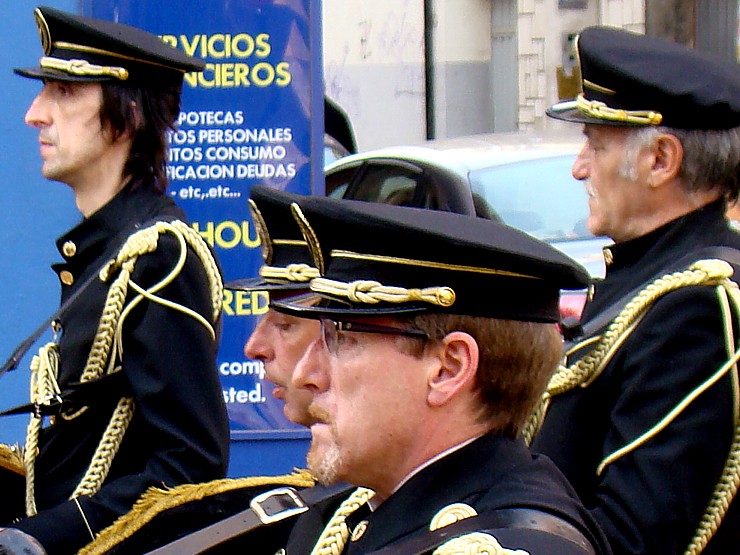 The drummers provide the heartbeat and rhythm of the parade. (28 Mar 10)
Below are links to two videos. Use the first if you have a broadband connection to the internet and the other if you who are still on dial-up or are on a very slow broadband connection. The latter has much poorer quality; so retrieve the broadband version if you can or have the time to wait for it with your dial-up. If you are retrieving the small file, reduce the size of your viewer to see it more sharply. This is my first effort at cutting and pasting these together into a single file so enjoy but don't expect Hollywood.
Be sure to have your sound on loud and use your best earphones unless you are blessed with good speakers on your computer and are ready to blast those around you. This was a loud experience; hear it that way. If you have any problems with either these files, let me know and maybe we both can learn something.
After you are done listening and watching, realize that you have just heard three minutes of this ceremony. The parade went on for better than two hours as I followed it around the streets on Astorga. I am so happy that I fell on this celebration. But then I suspect I didn't just fall on it--the Universe had a lot to do with lining us up.
Back into the countryside I again experienced the vastness of the spaces on the Spanish Maseta, the highland planes that stretch from a bit east of Astorga to Burgos.
Ever-present to the north of the Maseta mountains separate the high plains from the Atlantic to the north. (5 Apr 10)
A couple pilgrims, made small by the vastness of the empty fields, follow the Camino west. (7 Apr 10)
A lone pilgrim walks down a long hill alone west of Castrojeriz. (7 Apr 10)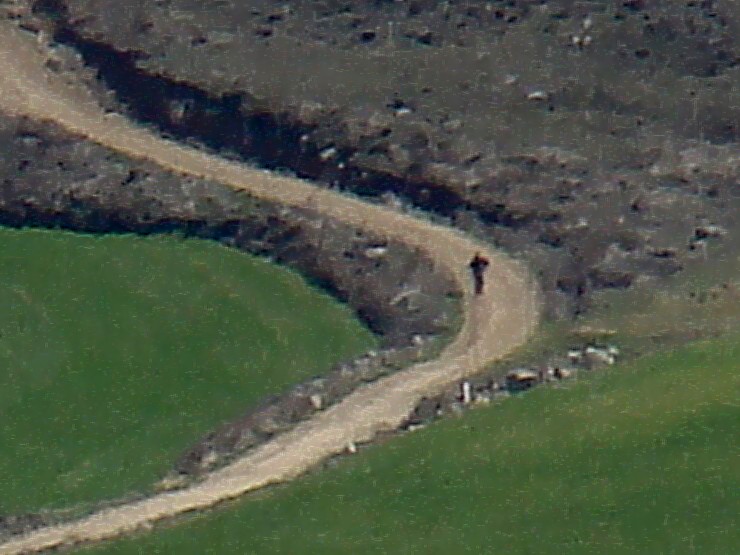 In case you have missed him(?) in the previous picture here he is. (7 Apr 10)
This is a holy year since the feast of St. James, July 25, falls on a Sunday. Those walking to the Santiago cathedral can receive a plenarily indulgence that forgives all their sins and allows then immediate entrance into heaven should they die at that spot. So the numbers of those walking gets more and more as I make my way east. Thirteen or 14 walk toward me east of Carion de las Condes.(5 Apr 10)
A few days later I took this picture of at least 19 or 20 pilgrims. Traffic is heavy. Later near Los Arcos, I counted 130 meeting us in two hours. (6 Apr 10)
I couldn't resist this picture of paper money bills from around the world pinned to the rafters of this bar in Castrojeriz. The walls and rafters behind me had as many or more bills on it. (8 Apr 10)
Many do the Camino on their bicycles also. Sometimes they have to get off and walk. (8 Apr 10)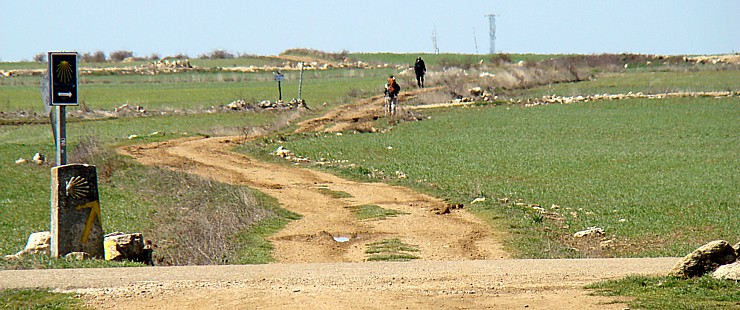 The Maseta east of Castorjeriz gets very dry and rocky. But the pilgrims are here too. (8 Apr 10)
The alberge at San Bol has changed its appearance and even has gained a toilet since I last passed this way in 2004. It looked like this then when the toilet was the bush line in the field out behind. The old way suits me better. (8 Apr 10)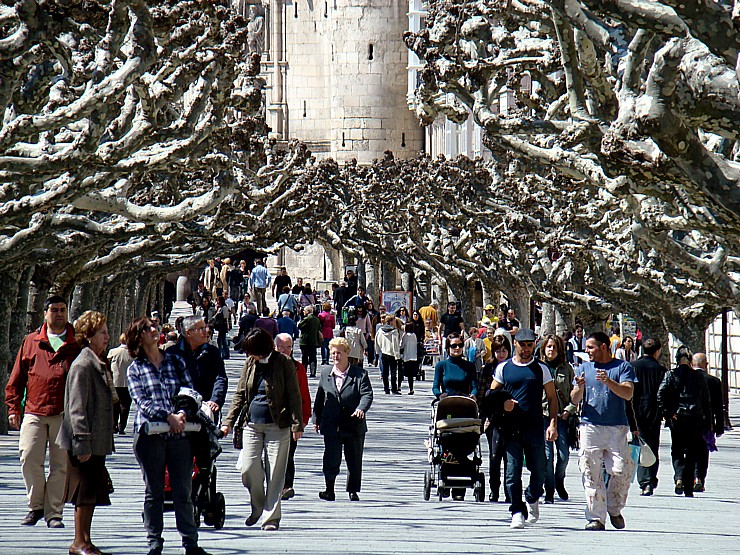 The Spanish trim these trees fully back every fall. No leafy branch is left when they are done. In the spring the trees sprout again and form wonderful, full summer shade. These rows are in Burgos.(10 Apr 10)

Return to where you came from.


Copyright © 2010-2012 Mike Metras, www.PilgrimageCreations.com