From Fidenza to Rome we walked the Via Francigena (VF), a Medieval road from Canterbury, England to Rome. We walked it in two stages: from Fidenza to San Gimignano in December 2006 and from San Gimignano to Rome in January-February 2007.
This page includes comments of the following general topics concerning these stages of our pilgrimage:
---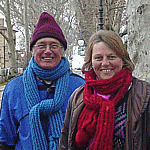 *So many wagging tails greet us along this way. It seems the average is two dogs per household along the VF. And every one has to bark at us to let us know we are near his territory. But they give themselves away with wagging tails. They are not fierce; they are only greeting us.
---
Note: The writings ideas and writings on these pages belong to both Petra and me. We have talked long as we walked and more as I wrote this. We change things; we take things out; we add more. This as truly a soup made up of both our reflections.
---
Overview
On the Via Francigena we are now on a very different part of the pilgrimage. The first half was on paths created for sport walkers who walk for the joy of walking. We used them as a convenient path for our pilgrimage. We are now on what was once the main road between Canterbury, England and Rome, the Via Francigena (the French way). It is a route that was used not only for commerce but also by people making pilgrimages to the tomb of St. Peter in Rome and even forward to Jerusalem. The route has been around since before 1000 AD. Though it is not always now exactly on its original physical path, it is close. Today the VF caters both to sport walkers and to pilgrims on a spiritual or religious walk.

While we think Siena was within reach as we start the first stage 5 December, we have to settle for San Gimignano in the end. The winter days are too short to walk the longer distances needed to reach that goal. Yes, we could have committed to walking all out and making it. But that is not our style. We like to take it slowly and enjoy, feel, and soak up any meaning in the places we are passing through.

The weather is by and large sunny and warm for both stages of our VF walk. We have some fog in the beginning and end of the first stage and it rains a few times, a couple times heavily. But the sun fills the sky the most of the time, sometimes sharing it with few clouds. It is never hot as it was in the summer and freezing temperatures came only a couple times in the form of heavy frost as we leave Valpromaro for Lucca and again in the snow storm around Radicofani and in the winter wonderland the following morning. Most of the time we walk with temperatures in the 60s F. (high teens C.). In all the weather blesses us. Winter is a wonderful time to walk in Italy. If only the days would be longer.
Morning frost south of Valpromaro.
We walk between eight or nine and five most days with rests along the way. The paved road provides a bit under half of our walkway and that is uncomfortable especially when the traffic is heavy. We are lucky to only once or twice share the roads with trucks when it is raining. It is nice to be walking in late fall when the sun is not high. That pavement would have been murder under the August sun. Seldom-used tracks form a significant part of the route. The remainder is made up of footpaths through woods and fields and along rivers. Signs warn us only once that the path is dangerous, especially when wet. We bypass that section because it is quite wet that day. Mud is a problem mainly in Tuscany, where the soil is clay and most of the walkways are down clay paths. They are hard as a rock when dry but their clay sticks to your feet when it is wet. Once we had to take another route when it stuck too thickly and there was no grass along the side of the path to walk in. We have a lot of mud on our shoes at the end of more than one day.
Our guides
We have four main guides:
Guida alla Via Francigena by Monica D'Atti and Franco Cinti
Maps created by the Association Intgernationale Via Francigena
Vade Mecum by the Via Francigena Society
Dormifrancigena a list of hotels and religious places to stay also by the Via Francigena Society
Kompass 1:50,000 walking maps.
Each guide has its strengths and its weaknesses.
The Guida proves by far the most useful guide for the path itself. When the signs along the road do not help, most of the time the Guida's directions show us the way to walk. Sometimes it's a bit sketchy at the beginning or end of a segment. But it seldom tells us how to get through cities well, at least until Lucca. It also seems that its maps are not drawn proportionally so it is often hard to decide relative distances along the way solely by looking at the map. We have to read the text also, a tedious task when we are on the move especially since my Italian is not terribly fluent.

The maps provided by the Association Internationale Via Francigena are quite useful generally and they provide much more information about places a little away from the route than does the Guida. That helps when we stray off the path now and then. But when it comes down to the immediate decision of which of two or three intersecting paths to take, they are often of no use.

The Vade Mecum is of no use as a guide to the pathway. It is written in code with the intention that it can be understood by anyone regardless of his/her language ability. But it doesn't work for us at all. It uses markings like < and > for left and right and similar ones for up and down but it isn't clear where one should turn right or left or go up or down a hill. We give up on it as a practical guide to the path early on. It does, however, have more places to stay than the Guida and gives a lot more general information and phone numbers in the cities and villages we pass through.


St. Peter is also our guide and our goal. Here his statue stands on the bridge over the Serchio River in Ponte S. Pietro holding the keys to heaven with hearts on the handle end.
The Dormifrancigena (Dormi) is a very useful and extensive list of places to stay at night, including religious houses. It is well worth its cost. We use it often. But in the end the Guida lists couple places we stayed that were not in the Dormi. So they are good companions.
The distances between cities and stops in the Guida, in the Vade Mecum, and on the VF maps are almost always different. And often the routes are different (obviously resulting in different distances). We also feel that many of the distances in the earlier days before Lucca are longer in reality than the distances listed in the guides. We walk at a fairly slow average of four kilometers per hour (2.5 mph) with backpack. Using the distances they give, we would be walking at only three or so kilometers per hour (2mph) in those earlier days. But I think not. I think we walk farther than they indicate we walk. Their distances are short. In reality the route of the current VF just is not as exactly established as that of the Camino de Santiago. It is still in the forming stages. It will be a while before a single route is established and agreed to by all, and consequently measured accurately.
Before we began the second stage, we bought two 1:50,000 Kompass maps for the route just south of San Gimignano to just before Acquapendente. With them we can measure the distances accurately and also know just how far we still have to go at any time. Better yet, we have help in determining ambiguous intersections and alternative routes. If you can afford them, get them. They help. But they do not cover the entire route of the VF and they are rather expensive for one-time use.
The markings along the way
For those like us who have walked the Camino de Santiago in Spain and have enjoyed the ever-present yellow arrows telling us exactly where to go, the Via Francigena presents more than a few frustrations. In fact, marking is just not there is some places and overdone in others. As we leave Fidenza in the beginning, we see no recognizable signs until two hours into our walk. We have no accurate map and the only instructions are in Italian, three different sets with two different routes to choose. We start out by walking too far before turning. As a result we enjoy a couple more kilometers of the countryside than we are supposed to see. Then when we see signs, we start following one (lower right in the picture) that turns out to be identifying the road for cars on their version of the VF. The road naturally avoids walking paths resulting in another early diversion.
Signs are many and varied as you can see in the following picture. The sign we see the most often during the first stage is the red Via Francigena 2006 sign in the top middle of the picture (can someone tell me who put these signs up?). It was the first sticker we see south of Fidenza and we see it almost every day along the walk. Sometimes it is even at crucial intersections. The one with the little yellow pilgrim and the arrow in the lower left of the picture and more fully (though small) in the lower left center is everywhere after Lucca and is very reliable. We follow it most of the time and are seldom miss-led.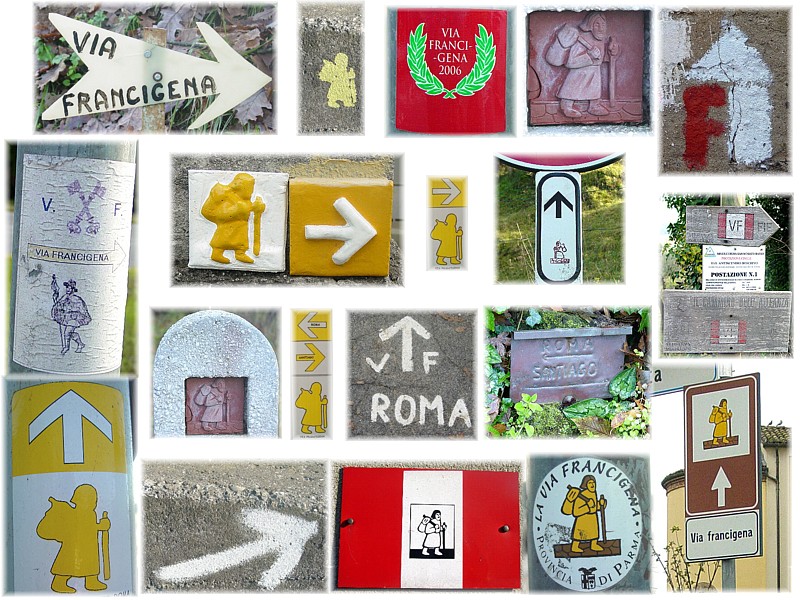 Some of the many different signs telling you the way to go along the Via Francigena. But from Fidenza to Lucca there often isn't any at critical intersections.
Often before Lucca the signs are not there when we need them. That is, there are signs, a lot of them, but they are along the road you are already walking, the obvious route. But at intersections where you have to decide which of two or more ways to go they are too many times missing. The guidebooks help us most of the time in those cases, but we are also forced to use our intuition a bit more than is comfortable at times.
After Lucca it seems that three or four groups took pride in marking the route as there are a number of different signs. At times three or four mark the same signpost--a bit over done. But even there, signs are missing at crucial intersections.
Most of the early cities are very poorly marked and the guides tell nothing of how to get through them. We have to do a lot of dead reckoning to guess our way through cities. In the case of Sarzana that ends up costing us an extra eight kilometers and better than two hours walking when our reckoning is a bit wrecked by inaccurate directions from a policeman. Since most pilgrims head for the main church, the duomo in a big town, just a couple signs around the duomo area in each town would do wonders toward making our lives easier.
After San Gimignano the path is well marked by both the little pilgrim sticker and the little pilgrim stencil (top of picture, second from left) both with their arrows, the latter often with white arrows pointing toward Rome and yellow ones pointing towards Santiago. Others including a large wooden VF arrow and our red 2006 marker from the first stage mark the way also, but not as often and as usefully as the two, little, yellow pilgrims.
A pilgrimage is many smaller pilgrimages
One morning we have an early misunderstanding with the director of the house we were living in, we leave a hat behind and have it returned, and we walk through mud over a hill and along a ridge. So many very different things happen. That day I begin to realize in my core, in my feelings, what I probably already know, or should know in my head. A pilgrimage is made up of many smaller pilgrimages. Each day brings many different smaller separate tasks (read "pilgrimages") we have to attend to sometimes one after another and sometimes several at once. All these small pilgrimages make up the pilgrimage we are on. But I realize another thing in this and the next couple days. This pilgrimage to Rome is only another small pilgrimage when taken in the context of our pilgrimage through life. And it is a small one.

This gives a new bent on my book Walking Life, a meditation on the pilgrimage of life. I never thought of including the pilgrimages to Santiago and Rome as part of the pilgrimage of life. But they are so much a part, as well as all the other little pieces. They are core parts that give life to my day-to-day mundane pilgrimage, that recharge batteries so I can continue when things seem so heavy to hold up.


Morning south of Gambassi Terme.
Click her to enlarge. Back to return.
Our Accommodations
Lusuolo, a medieval castle and village south of Villafranca.
Along the VF accommodations are different from the mainly hotel and mountain hut accommodations on the first half of this pilgrimage during August. The religious houses along VF cater to the religious and spiritual walker. You can stay in convents, monasteries, and parish houses. We stayed in them most of the time. These accommodations are sometimes Spartan and sometimes brand new and almost luxurious. But they are always clean and comfortable. All the guides list many of them though no one guide lists them all. Some have a fixed price for the accommodations, some ask a donation, and some are free. The VF literature suggests a minimum of ten euros each for any donation. Some are much too nice for only ten euros. In some we get to know the people because we talk a lot with them both at meals and casually. It is often hard to figure where to give the donation because there are no instructions. I much prefer written instructions.
Sometimes our sleeping bags are necessary like when we have to sleep one night on tables in a parish meeting hall. And other times it is just more comfortable with the light sleeping bag instead of a thick layer of blankets. Take your sleeping bag with you.
Pilgrim's passport
You are on a pilgrimage. You need a credential, a passport of sorts to identify you and say where you have been. As pilgrims to Rome we carry pilgrim's passports similar to the credentials carried in on the Camino de Santiago. We have them stamped at each place we sleep at night and in a few other special places we pass, like some churches. Mine are below.

Both sides of my pilgrim's passport.
Click on each if you want to view the details. Use your back button to return.
Our touch
Most pilgrimage stops and many restaurants have a pilgrim/visitor book for you to sign. We usually put something there concerning the pilgrimage, the accommodations, the hospitality, or some combination of them all as we feel at the time. But on the second stage of the VF we have an addition. We made address labels with our pilgrim picture, our address, and the address of this web site to stick there too.
Conversions
We are living in Germany now and walking in Italy so everything we measure is it metric terms. I am writing this mostly for an English speaking audience that has little knowledge of metric units. So I have tried to convert everything to miles, yards, and Fahrenheit. I am sure I have missed some conversions. Where I have failed, here are the basics:
A kilometer equals 0.62 miles and a mile equals 1.62 kilometers.
A meter is 3.39 inches more than a yard though in use they are practically the same.
One inch is 2.54 centimeters and a centimeter about 0.4 inch. Five centimeters equals two inches.
Temperatures are a bit complex. One degree Centigrade (C.) is 1.8 degrees Fahrenheit (F.). Rather than give you the complex conversion formula here are some examples:

Zero degrees C. is 32 degrees F., the freezing point of water.
A cool day of 10 C. is 50 F.
A nice day of 20 C. is 68 F.
A hot day of 30 C. is 86 F.
And a very hot day of 40 C. is 104 F.
Back to top
Back to Rome pilgrimage page.
Copyright © 2006-2012 Mike Metras, www.PilgrimageCreations.com