We currently spend the summers in Santa Fe, New Mexico, and the winters in India. We have no schedule to give slide shows but we will give any on request. If you see us somewhere or ask us online, we have them on our computer and can give them on request.
In August 2006 we began a pilgrimage to Rome. We walked from our front door in Germany over the Alps and across the Po Valley to the ancient Via Francigena pilgrimage route in Fidenza, Italy. In December we walked another two weeks from Fidenza to San Gimignano. Then we finished the pilgrimage in January.
This slide show, a collage of images, videos, audio clips, and our descriptions, shares our experiences and the lessons we learned as we walked to the center of Roman Christianity from Germany.
You will learn about walking over the Alps and the history of the Via Francigena a pilgrimage route used since at least the 9th century.
This slide presentation of our pilgrimage experience lasts around one and a half to two hours depending on questions and comments.
Schedule
We are currently offering the following the Germany to Rome slide shows:
More coming. Check back later. Or call us for a showing to your group.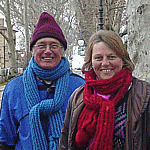 Copyright © 2008-2018 Petra Wolf und Mike Metras, www.PilgrimageCreations.com