2012 Camino de Levante pilgrimage walk
The Camino de Levante crosses Spain from Valencia through La Mancha, Toledo, and Avila to Zamora where it joins the Via de la Plata. Together they then continue to Santiago de Compostela. The entire walk is around 745 miles (1,200 kilometers). The guidebook lists it as 42 stops. They are a bit overenthusiastic with some long days. Before I started, I expected it to end up being somewhere around 50 to 55 days including six or so rest days.
The Camino de Levante had long been wandering in my mind and heart. With my departure in late March of 2012, I (Mike) took it to my feet, my breath, and my soul. My goal was not Santiago. I intended it only to be the last day of the walk. As always, the walk was the destination. I intended to walk each step and live in the Now as much as I could.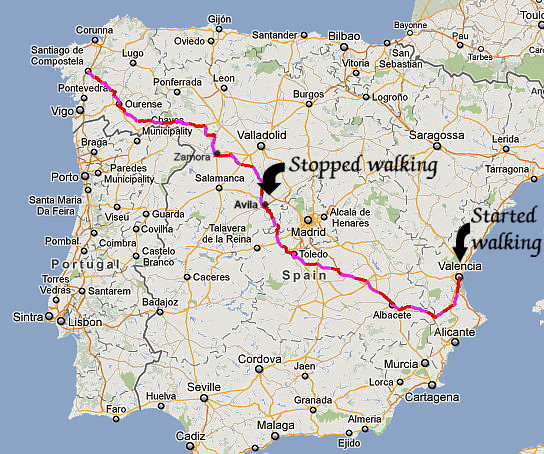 The Camino de Levante
I wanted to walk through the many villages crossing the plains of La Mancha and look for the ghost of Don Quixote. And I passed through Toledo where Moslems, Christians, and Jews lived together harmoniously for centuries under Arab rule.
The web Journal I wanted to use to let everyone know where I was never panned out well. I was on the walk to walk, to feel, to taste, to smell, to meditate, to live, to grow. All that didn't always give me much time to search out a computer. But I though I checked often enough, there were few places with computers I could use. There were a lot of Wi-Fi places but few with computers. I carried none. I quipped I was walking in "BC" time (Before Computers). When you go there now you will see only few entries.
After Avila
After Avila, I went to Santiago by train and then to Finisterra by bus.
Camino de Levante Photos
Since the blog fell seriously short on telling the story of my 25-day Camino de Levante walk and the time afterword, go through the following photo journal pages of the walk to see some words and pictures of my experience.
Daily stops
The second table shows suggested daily walks and stops along with distances provided by the Association of the "Amigos del Camino de Santiago" in Valencia. I added the dates before I started. Some daily walks are quite ambitions (like more than 25 miles!). But reality was different. The first table lists my actual stops. Aside from the fact that I stopped in Avila instead of Santiago, I took four more walking days to get to Avila than suggested.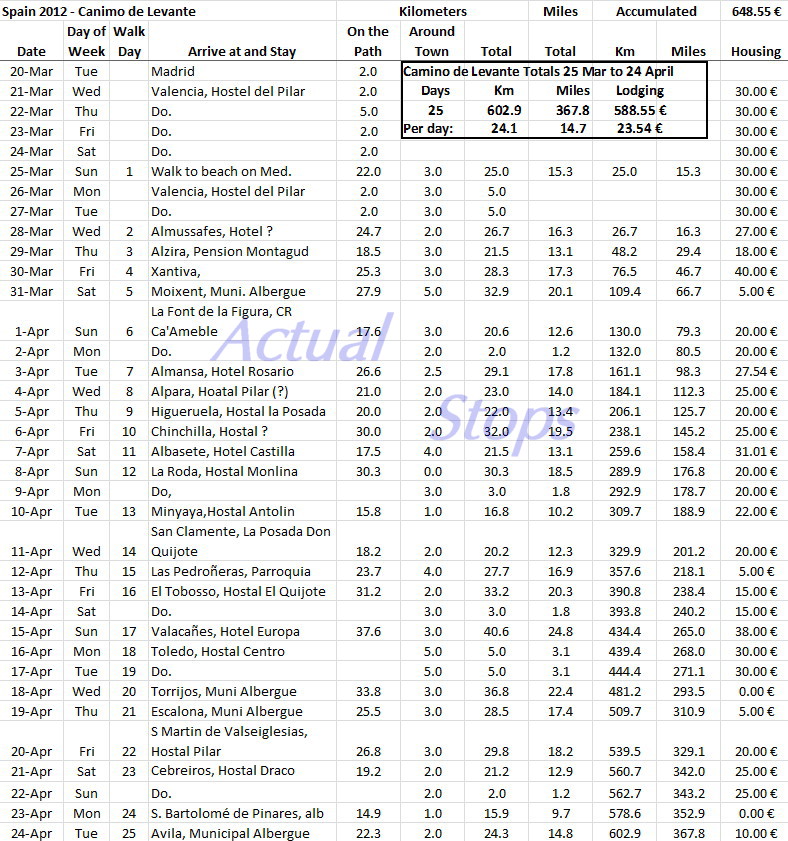 My actual Camino de Levante stops
The the suggested Camino de Levante stops
---
---
Go to the web journal.
Back to top.
Changed: January 2018 Copyright © 2018 Mike Metras, www.PilgrimageCreations.com /td>